Love is Blind, the new Netflix relationship show produced by Kinetic Content, has topped the US charts as the overall Number One title on the platform.
The show has also ranked as Number One in most other major Netflix territories, including the UK, Germany, Australia and Brazil.
Starting Monday February 24, Netflix has rolled out globally a Netflix: The Top 10 row to its platform. The Top 10 lists, updated daily, reveal what's popular in each country and are broken into three categories: Netflix titles, shows and films.
And the first ever Top 10 list for the US has been topped by Love is Blind, taking the top spot as the country's most popular Netflix title.
Cameron Johnson, Director of Product Innovation – TV & Kids at Netflix, said yesterday in a blog post on the company's website that the lists were "a great way to find out what's popular" and will enable users to "easily see what's in the zeitgeist, whether you're browsing by genre or through your personal list – or when searching for specific shows or films."
Shows and films that make these lists will also feature a special "Top 10" badge wherever they appear on Netflix.
The company has been experimenting with top 10 lists in Mexico and the UK for the last six plus months and have identified that members in both countries have found them useful,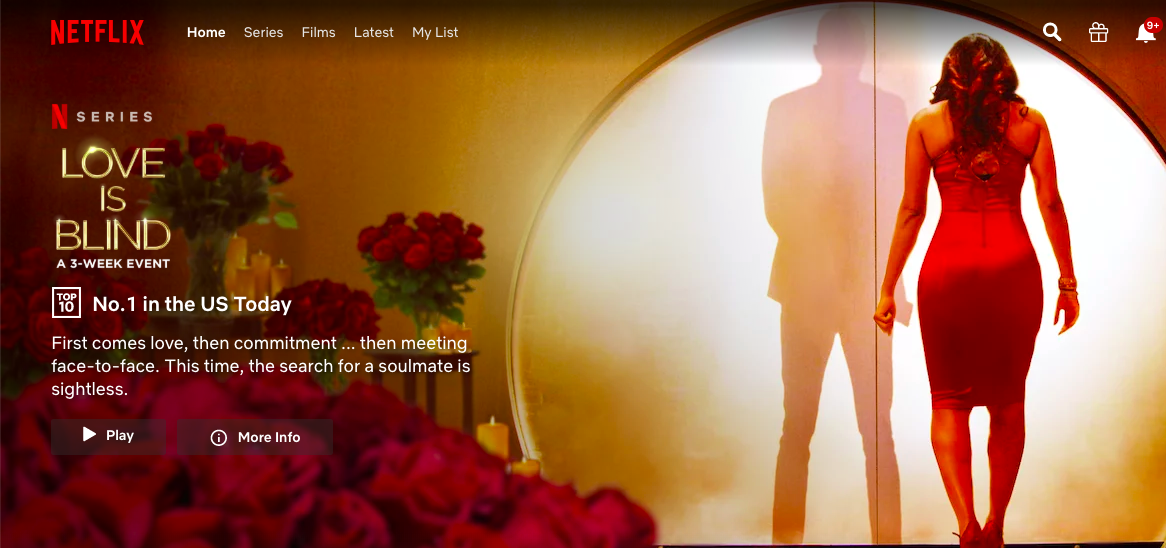 Top 10 US list, February 24, 2020:
Love is Blind
The Last Thing He Wanted
Narcos Mexico
Locke & Key
The Foreigner
To All the Boys: PS I Still Love You
Babies
Girl on the Third Floor
A Bad Moms Christmas
Better Call Saul
Love is Blind is hosted by Nick and Vanessa Lachey, and the 10-episode series premiered globally on February 13, 2020.
Love is Blind is produced by Kinetic Content, with Chris Coelen, Sam Dean, Ally Simpson, Eric Detwiler and Brian Smith serving as executive producers. Kinetic Content is a significant supplier of unscripted programming to the US, with current series on air including the 10th season of hit Lifetime show Married at First Sight, which is in a new, supersized 2 hour per episode format following last year's highest rating season ever; Man vs. Bear for Discovery; Friends Speak for Reelz; and Spy Games for Bravo.
In Love is Blind, singles who want to be loved for who they are, rather than what they look like, have signed up for a less conventional approach to modern dating where they hope to meet the person they want to spend the rest of their lives with… without ever having seen them.
With no distractions from the outside world, the singles talk to a stream of potential love interests and when a meaningful connection is made, they propose and then lay their eyes on their fiancé for the first time. Engaged and back in the real world, as the couples plan their wedding day, they will quickly discover whether they can turn their emotional connection into a physical one before the fast-approaching ceremony. This addictive series will uncover whether looks, race or age do matter, or if love really is blind.